The Crew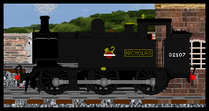 Nicholas
- (Former) Site Administrator/Route-makin' Manager
Nicholas is the site administrator of SODOR RAILROADING BUILDERS and founded the site in 2010. He is an E2 (the only one left besides his friend ,Thomas) built in 1914, and worked in America during the wars (mainly in California and Colorado) before coming to live in England. He occasionally works on Sodor (mainly on the Ffarquhar line) alongside most of his friends. He occasionaly speaks an South-Western language, and likes to wear sunglasses. He is a kind-hearted engine, but sometimes, he tends to get cocky, but he does his work without fuss whatsoever. He also owns his own YouTube and deviantART channel here:
http://www.youtube.com/Nictrain123
http://nictrain123.deviantart.com/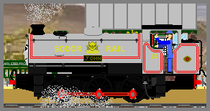 John
-Second in Command/Route builder
Hello, my name is John, a Hunslet 'Austerity' WD 0-6-0ST locomotive, and one of Wilbert's brothers. I don't have time to write a backstory for myself, but once when I get the time, I will.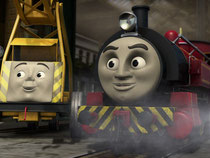 Victor and Kevin
-Site Construction Workers
Since the site has just been opened, there is a lot of work to do on it before it is complete. Who is better at doing this, than Victor and Kevin! I can't do a personal review on them at the moment, because they are so busy.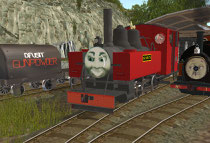 MSR No. 2 "Stanley"
-3rd Hand Route Maker
Stanley was built in America in 1913, and shipped to France to serve on railways owned by the War Department. After the war ended in 1915, he was shipped to the Mid-Sodor Railway in 1919, and was turned into a pumping engine and stored at the back of Arlesdale shed. In 1945, he was sent to Cas-Ny-Hawin to keep water from flooding into the mines. A year later, he broke down, and the MSR closed down next year. Unknown to anyone, Stanley was put away in a secret warehouse untill he was uncovered in 1989, and rebuilt back into a steam engine. We hired Stanley to help me build the routes we shall build in the near future, but we may keep an eye on him, so he dosen't start acting up again.